---
---
We are not currently taking new projectile orders.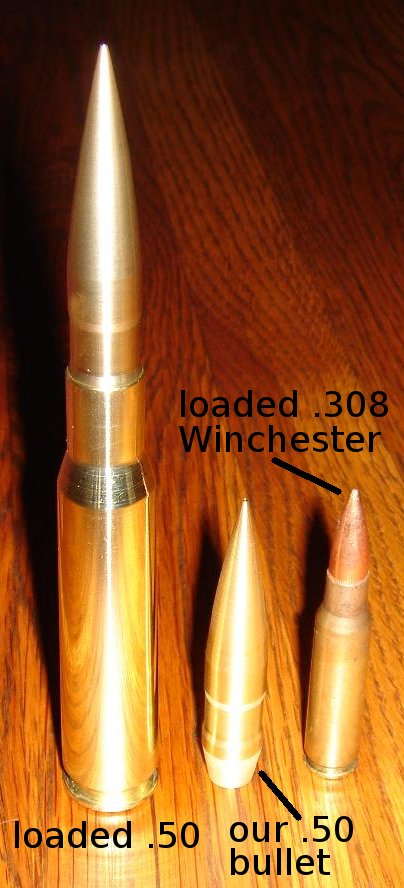 Technical details for the projectile we are shooting and selling:

solid brass
short band
bore rider band diameter: 0.502"
driving band diameter: 0.5102" +/- .000015"
weight: 795 grains
ballistic coefficent: G1: 1.003 and G7: 0.504 (at Mach 2). Detailed Doppler report available on request.
While the basic design is good, it's our quality control that makes these projectiles very good. Projectiles are sorted by weight and diameters of both the bore rider band and driving band. In a box of 25 projectiles, individual weights are usually within 0.2 grains of each other, and diameters within 15 millionths of an inch. Instruments vary, so while your scale or micrometer might show different absolute values than ours, you should see the same uniformity.

Our 795-grain projectiles are capable of shooting 1/4 MOA groups. We use these projectiles to routinely shoot 3/4" 5-shot groups at 200 yards, and frequently shoot 1/2" groups when also using RWS brass.

We will be producing these projectiles during the winter months every year. If you would like some for the next year's shooting season, we will need to know early in the fall before that shooting season. Projectiles currently cost $3.25 each. We regret the increase in our prices, but since we have started making them, the cost of brass to produce them has doubled and we have considreably tightened our tolerances! We sincerely thank all of our customers who continue to use our projectiles and we remain committed to producing the best match grade .50 caliber projectiles in the world.


---
We are not currently taking new projectile orders.
Please contact us for information on future availability.


[ home ] [ projectiles ] [ RWS brass & primers ] [ questions ]

Saturday, 01 Apr 2023, 05:03 PM EDT
Copyright 2007-2021 TenX Accuracy - All Rights Reserved